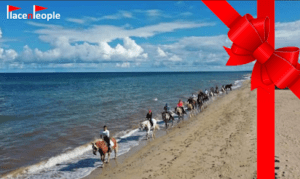 PlacenPeople is an Italian community of hundreds of tour and activity organizers in southern Italy, awarded by the Puglia Region. Our organizers know our land well, and will make you live experiences of all kinds: tours, adventures, food and wine workshops, boat rides and much more, always with great attention to quality. This year don't rely on the usual international marketplaces, give an experience on PlacenPeople!
You choose the amount and message in the gift voucher;

You will offer a choice of dozens of beautiful tours and experiences in beautiful places;

You can also send the voucher remotely, in case you cannot physically meet the recipient for now;

If you need help creating the voucher you have a number you can call;

PlacenPeople also helps the recipient of your gift to choose the experience they want most;

You will contribute to support people who are trying to improve their territory;
Your gift will have even more value for who receives it:
Valid 1 year: you decide when to do the experience
Flexible: depending on the experience chosen, it can be used to book even more activities, or participate in more people!
Cumulative: just add the difference to use the voucher with more xpesive activities.
Get more: the prices on PlacenPeople are lower than average, thanks to the many experiences offered directly by the organizers of our community. So with same amount of money, you get more.
Click on the image below to take a look at the dozens and dozens of possible experiences and tours:
Any figure is right: the experiences are many and all different from each other. But here's a rough idea:
– tour for 2 people of a city with a local guide: € 60 total (choice between various cities)
– culinary workshop for 2 people to learn how to cook a local specialty: 60 € tot (choice between various specialties)
– excursion for 2 people on horseback on the beach: 140 € tot
– balloon ride for 2 people: 500 € tot
How does the voucher look like and how is it sent?
We will get in touch with you and send the voucher by email, to you and NOT to the recipient. Then you can decide how and when to deliver your gift. For example by email, or by printing it. Here's how it looks like (in Italian or in English):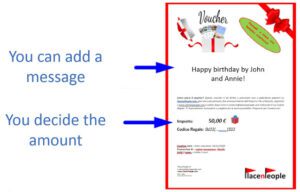 Also available:
– Christmas themes e
– themes on specific experience of your choice*
*
(the latter must cover a value of at least 25% more than the value of the experience)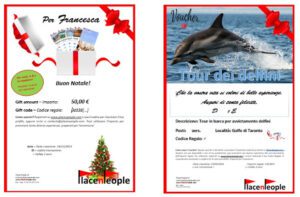 Do you need more information? You can write us on
whatsapp, email, messenger
. We will get in touch with you to make sure everything is according to your wishes!
Info and rules: all the conditions present in the standard PlacenPeople Terms of Use are valid, as for any guest who uses PlacenPeople.com
The voucher created must have a minimum value of 25 euros.
By clicking on the "book your voucher" button you will be guided through the payment procedure via Paypal or card and accept the regulation of the voucher itself. Soon after that, you will be contacted by PlacenPeople to ask you for info on how you prefer to package your gift.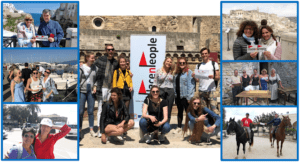 PlacenPeople received a prize in 2018 from Regione Puglia within the P.I.N. procedure